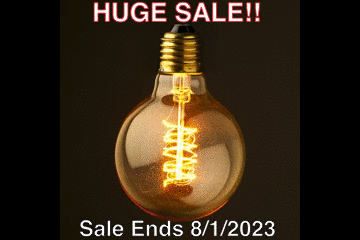 Incandescent bulbs will no longer be sold in the US.
The Federal Government's Department of Energy has recently set new standards for light bulb manufacturers to be compliant by August 1st, 2023.
As part of a nationwide push towards energy efficiency,
federally mandated requirements state that bulbs on sale must now produce at least 45 lumens per watt.
All of our incandescent products will be phased out by August 1, 2023 to comply with this new Federal regulation.
We have slashed prices on all of our incandescent specialty line bulbs.
STOCK UP NOW!
edisonlightglobes.com/120V/vintage-globes/
Do you hate LED Lighting or just love the warm glow of an incandescent bulb?
Stock up now…, so you will have plenty in the future.
Come August 1st 2023, we will only be able to supply Vintage LED bulbs as decorative warm bulbs.
All bulbs purchased prior to this date will still be legal to use however.
While the ban will be in effect soon,
customers can still buy what is left of incandescent bulbs that are still being sold here at Edison Light Globes, and you can still use incandescent lights in your home for as long as they last!
Thanks, your friends at Edison Light Globes