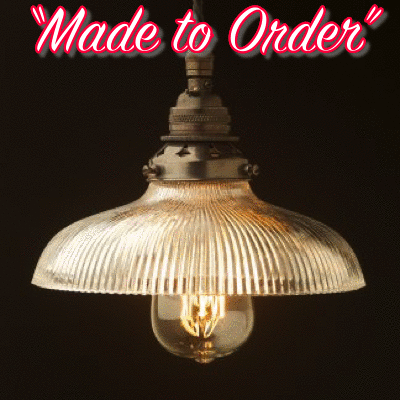 A good majority of Edison Light Globes, Complete Light Fitting items, or "Made to Order" products are just that.
They are hand made per order request. This allows you to customize different aspects of how you would want your particular Pendant lighting, billiard table light, ceiling lights, or wall sconce.
We do not keep premade inventory just sitting on the shelves.
Each time someone orders from us, we take the specifications that they have provided to make their own uniquely designed product with specifically produced hardware we source from our manufacturing partners.
Once we receive your order, our craftsmen will assemble a list of UL approved hardware components that will build your "Made to Order" product the way you have designed it.
Once they have your order built and completed, they inspected it for any defects, and it then goes to our shipping department where they carefully pack your order,
using a combination of corrugated paper, bubble wrap, and Environmentally Friendly Starch Packing Peanuts that dissolve in water.
Once the packing and FedEx labeling is completed, you will receive a email with a FedEx tracking number via the email you provided when registering. Make sure you check your spam folder if you don't see it with your regular mail.
Depending on what shipping speed you choose, you should receive your "Made to Order" product within 3 to 7 business days.
All of our "Made to Order" products come with a 12 month warranty.
If you are not satisfied with your purchase,
you can return the product for up to 30 days from the date you purchased it for a refund.
We look forward to crafting your "Made to Order" product.
Start with our simple Bare Bulb Pendant selection to get you going.