DIY Hardware
People are often confused with the terminology associated with Light Pendant Component Anatomy.  There is a lot of technical jargon involved with light fittings which prompted us to write a post on light pendant component anatomy which lists the parts used and where they sit in relation to each other.
Pendant Components
This post explains what the components are called and explains the functionality of various parts. You may have an antique glass shade that requires a fitter but you need to work out all the other components require to make a pendant. Alternately you may require hardware components to build your own lighting design. The diagram below is a breakdown of a pendant light.
Click on the diagram to find the names of individual components along with a full explanation and link to our product page.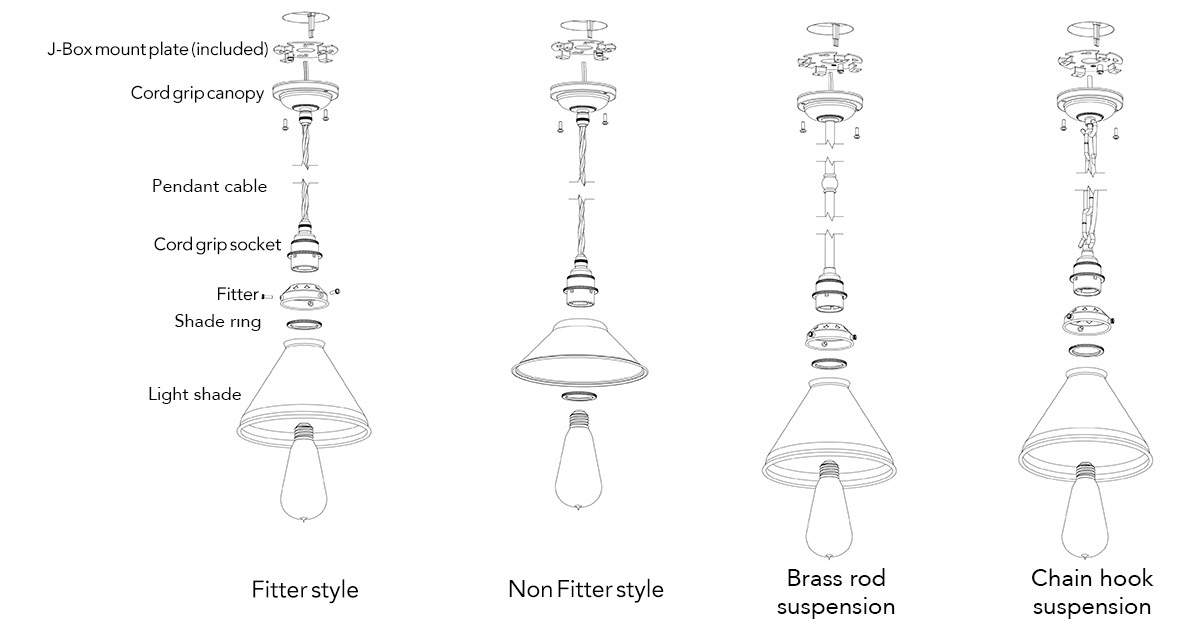 Ceiling canopy list in brass and steel to cover ceiling J-Box
Colored Fabric covered cable
Colored Fabric covered cable
Colored Fabric covered cable UL Listed 3 core and 2 core cable, fabric covered for general pendant lighting in a range of colors and styles.
E26 Sockets listed here are UL Listed 120V ES fitting for general lighting solutions like pendant and fixed lighting
Options
There are a number of options that need to be considered with standard single globe pendants. Pendants can be cable suspended, brass bar suspended or chain suspended. The socket and ceiling canopy will vary depending on the suspension method. We carry a large range of hardware items to cater for these pendant options.
Hardware options will also vary between bare bulb style pendants and shade pendants.  With shade pendants attachment options will be reliant on the type of shade being used. All glass shades require a fitter that will hold the glass edge without damaging it. With metal shades there are two types that we use.
Shades that require a fitter
Shade attaches directly to the socket via shade rings alone.
Our webshop is categorised into Lighting Hardware, where you can purchase individual components, and Complete Fittings, where you can purchase lighting such as bare bulb pendants, metal shade pendants, glass shade pendants and more.
General information
We are currently re building the way we show discounts for bulk quantities.
At the moment these discounts are calculated and applied on the checkout page only. We will add "per product " discount tables over time so that discounts are displayed prior to adding to cart.
From time to time we allow purchasing of items not in stock. If listed online as out of stock but backorders are enabled then we expect that the delay would not be significant.
Where there will be a delay we do not allow backordering and instead we ask that you email us for an expected delivery time.
We often have orders where small items or optional parts are out of stock. We may hold back the delivery until these items come into stock or we will part ship and send the backordered items as soon as they arrive in.
Generally we try to stock as many items as possible listed online and for some items we can list stock numbers.
For any outstanding items please contact us via the ticket system or email support quoting your invoice number.
Edison Light Globes is a web-based manufacturer/retailer. We do offer a trade discount to reseller customers.  The following industries qualify.
Architects
Interior and Lighting Designers
Retailers
Electrical wholesalers.  
To apply for a trade discount you must register an online account with us and place all orders via our on-line store.
There is no minimum order.
You can set up an account by registering on the 'My Account' Page.  Edit your billing and shipping details including your Business Name, Business Number and then email us at [email protected] with  your Username.  Once approved your login will then be converted to a trade account login for this username.
When you log into the website your discount will automatically be applied to the product prices. All orders should then be placed through the website with this login. You can also create your own quote online by adding your products to the shopping cart and then saving the order as a Proforma Invoice or Bank Transfer as payment option.
Please note any quotes provided by us over the phone or via email will not have the trade price applied.
The website ordering system can include your PO number and can supply a Pro Forma Invoice only as a quote if required.
Warranty
All products come with a minimum 12 month warranty. If the product is delivered damaged or fails to work as advertised for domestic use we will issue a refund or a replacement. All incandescent vintage filament bulbs used in commercial applications are subject to a 3 month warranty. All LED bulbs are subject to a 2 year warranty and 1 year if used in commercial applications. Warranties require all electrical work to be completed by a licensed electrical contractor and all items to be checked and deemed compliant prior to installation.
Please check your order carefully noting technical specifications. If we place the order on your behalf you should carefully check the Invoice/quote before payment so we can rectify any discrepancies prior to shipping.
Any product you return must be in the same condition you received it and in the original packaging. 
Incorrect items
If we have shipped the wrong item or you wish to return for a refund or replacement you can apply for a warranty on our website.  If you log in to our site there will be a list of your orders. These orders will have a warranty request button on each item if they are still listed as being purchased within the warranty period. Once your warranty period has elapsed the button will no longer be visible next to that order . If you wish you can contact support and make a request there.  Applying for a warranty online allows us to keep track of your request including shipping details.
Damage
For orders that arrive damaged we will repair or replace the product at our discretion. If items are damaged in transit we need to be notified within 7 days. Product delivered and subsequently stored for later opening will not be considered as damaged in transit.