People are often confused with the terminology associated with Light Pendant Component Anatomy. There is a lot of technical jargon involved with light fittings which prompted us to write a post on light pendant component anatomy which lists the parts used and where they sit in relation to each other.
Pendant Components
This post explains what the components are called and explains the functionality of various parts. You may have an antique glass shade that requires a fitter but you need to work out all the other components require to make a pendant. Alternately you may require hardware components to build your own lighting design. The diagram below is a breakdown of a pendant light.
Click on the diagram to find the names of individual components along with a full explanation and link to our product page.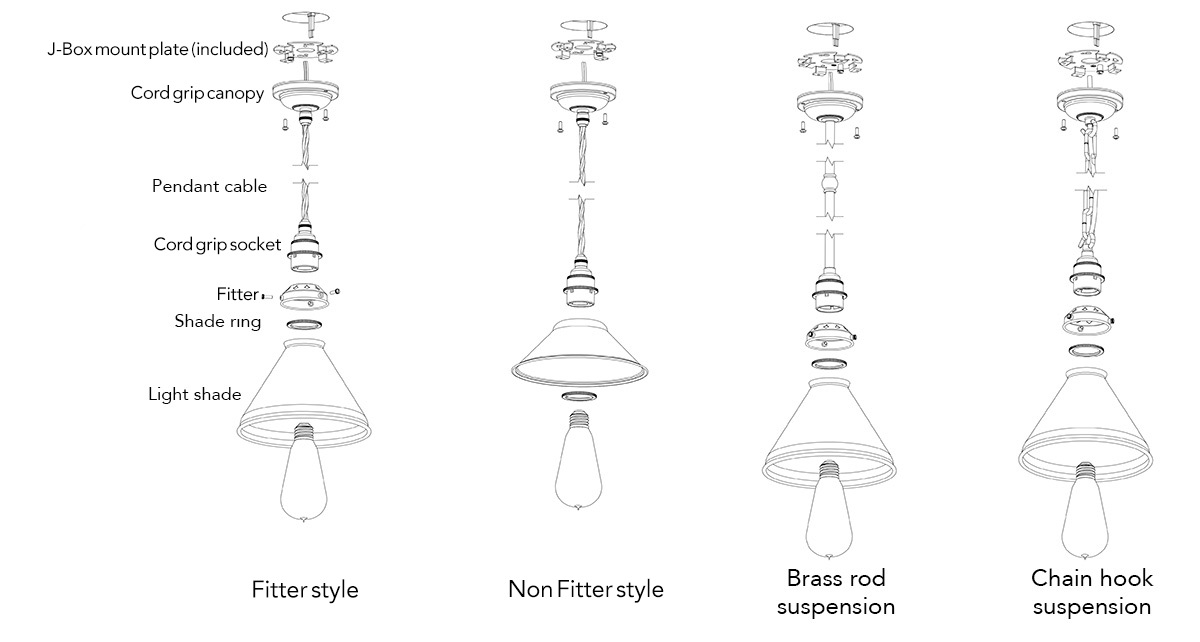 Ceiling canopy list in brass and steel to cover ceiling J-Box
Colored Fabric covered cable
Colored Fabric covered cable
Colored Fabric covered cable UL Listed 3 core and 2 core cable, fabric covered for general pendant lighting in a range of colors and styles.
E26 Sockets listed here are UL Listed 120V ES fitting for general lighting solutions like pendant and fixed lighting
Options
There are a number of options that need to be considered with standard single globe pendants.
Pendants can be cable suspended, brass bar suspended or chain suspended. The socket and ceiling canopy will vary depending on the suspension method. We carry a large range of hardware items to cater for these pendant options.
Hardware options will also vary between bare bulb style pendants and shade pendants. 
With shade pendants attachment options will be reliant on the type of shade being used.
All glass shades require a fitter that will hold the glass edge without damaging it.
With metal shades there are two types that we use.
Shades that require a fitter
Shade attaches directly to the socket via shade rings alone.
Our webstore is categorized into DIY Hardware, where you can purchase individual components,
and Complete Fittings, where you can purchase lighting such as bare bulb pendants,
glass shade pendants and more.