Product Description
37 inch X half inch solid brass pipe loop LED tube light is a minimalist version of our bent plumbing pipe light fitting made in house with custom parts. The modern LED tube light is also made in-house to exacting standards using the best LED strip components available. There is no glass used in this tube since there is no requirement to vacuum fill like a fluorescent tube.
They are an industrial style that we think would work well in an industrial themed office, cafe or hotel. Incorporating a two foot length LED, they may also provide lighting for food preparation areas i.e., for shatterproof requirement in commercial kitchen situations. These supply a fair amount of light when at a reasonable distance from the work area.
Plumbing pipe components are made from solid brass components that will last a lifetime. Brass surface is left polished but un coated so to remain polished they will need a surface polish with Brasso once every 6 months. Or you can leave to allow the brass to tarnish over time creating an antique brass color.
This light is made from half inch NPT plumbing pipe and so the outside diameter is 0.59 inches. Fixing points on the ceiling are 20.5 inch centers. Only one requires a wiring point.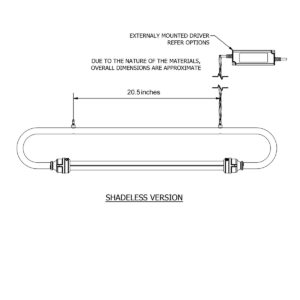 Availability
These tube lights are made to order largely in our main workshop. When available to back-order is indicated this means they will ship internationally to our US warehouse as required. This will delay shipping by around 10 days.
Suspension system
Cable suspension is stainless steel with loops made with appropriate ferrules. For stainless wire we use 1.6mm 7X7 strand. Photographs show hung with stainless steel.  If you have a required precise length please select the length closest to required and advise in "order notes" section on the checkout when ordering.
Wiring and globes
The driver location can be concealed in the ceiling space or surface mounted. All new wiring is completed ready to be installed by your electrician. We supply two hooks installed to allow use as a pendant. LED tube can removed by pushing to one end where the other end will drop. Low voltage cables have small individual plugs to disconnect.
For US and Canada, UL listed components are used but the light fitting itself is not UL listed.
TRIAC Dimming is compatible with most mains-connected trailing or leading edge dimmers. 1-10V dimming can be used with any 1-10V dimmer or other systems such as DALI.
We can include special chain hook ceiling plates, s-Hooks, Carabiners or shackles. We also supply stainless cable, Thimbles and Ferrules.