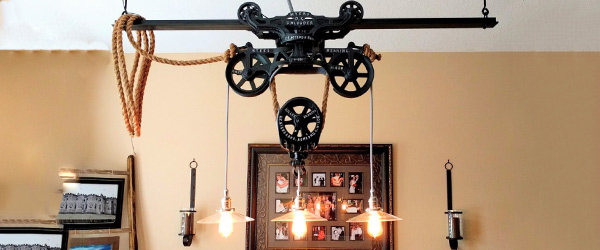 Myer Unloader Farm Hay Trolley in Florida
Our UL listed solid brass lighting hardware was a great solution for a customer in Florida retrofitting a crane pulley.  This custom light fitting was made from a vintage cast iron crane pulley. Edison's quality hardware was the ideal fit to make this design work for the customer.
Made from a restored c. 1904-10 vintage industrial Myers O.K. ornamental cast iron unloader farm hay trolley pulley, this custom pendant light is made by suspending three glass shade pendants from each of the pulleys.
F.E. Myers & bro., Ashland, Ohio, first began the manufacture of hay tools in 1882. The hay unloader is comprised of annealed malleable iron with all steel bearings turned on a lathe. These hay unloaders are readily available via eBay if you wish to make your own light feature.
Edison's brass hardware components offer a great solution for customising your own lighting.  We in fact have our own limited edition products that we sell on our webshop where we have repurposed various found objects into lighting.
For this particular project we supplied,
The glass shades.  These are a 8.5 inch rustic molded flat clear glass with 2 1/4″ fitter top 
The sockets.  These are an integral earthed style in solid brass nickel plated E26 UL Listed. We can supply these in a range of brass color options including new brass, antiqued brass and bronze plated brass. See our full range of E26 sockets here.
Cord grips.  For this purpose where the sockets are required to hang from the lighting cable we supplied solid brass cord grip top. These are a customized cable restraint that allows for effective pendant suspension using lighting cable only. Alternately these sockets can be supplied with hook top where the suspension is by chain or stainless cables. We also supply UL Listed 3 core decorative cloth covered cable in a range of colors.