Product Description
Bronze Single Drop Billiard Table Light with a range of metal and glass shade options. This solid brass ceiling pendant is designed to light up a small billiard table, pool table light, snooker table light or dining table. This design is also suited to task lighting for a kitchen bench. Its solid brass construction comes with 3 standard ES sockets with 2 1/4″ fitters. Shown in the main picture is the bronze cone shade. Bronze plated brass finish of the lamp hardware is coated so that it will not tarnish but will require cleaning with a non-abrasive furniture polish.
This Bronze Single Drop Billiard Table Light is a perfect solution where the installation requires one central J-Box wiring point on the ceiling. This light comes in just one width at present and with clear glass cone shades is 43 inches at the base of the shades. The brass bar suspension drop is available in various lengths. This should eliminate the potential for swaying in high air movement areas such as air conditioning or near a doorway. Standard length tube and decorative joiners compliment the style of the light fitting. Supplied with cast J-Box cover ceiling canopy and 5/8″ brass suspension drop bar.
Availability
These Billiard table lights are made to order largely in our main workshop. When available to back-order is indicated this means they will ship internationally to our US warehouse as required. This will delay shipping by around 10 days.
Pendant suspension drop
Pendant drop bars are a threaded item from the light fitting into the ceiling canopy and so need to be specified to your required length.
When placing your order you will need to specify the drop length required from the ceiling canopy to the top of the shade. The total pendant suspension drop will then vary depending on the shade you choose. Total suspension drop = (Pendant drop + shade height).  We have included a short list of shades available and their drop dimension listed under "documents" tab so you can calculate the total pendant suspension. You can also select no shades option and choose your own shades in 2 1/4″ fitter size or choose bare bulb to add a larger fitter and shade.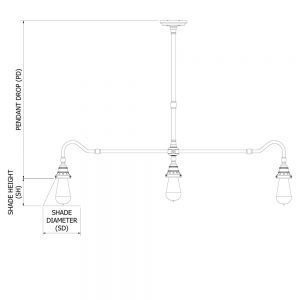 As this selected pendant drop increases the brass component may be made from more than one bar component incorporating decorative couplers to both extend the pendant suspension but also to allow us to ship as "screw together" parts that save on shipping cost.
Country voltage
Note that for E26 120V application, UL listed components are used but the light fitting itself is not UL listed.
Installation
This billiard table light is packed and shipped as separated components. Local and international shipping requires a certain packing girth and some items require differing methods of packaging. Glass shades are always packed separated from heavy brass items. All shades are packed detached as is any pendant drop bar or ceiling canopy component. A very simple assembly is required when installing. Shades should only be fixed in place once the light is fully installed. A ground wire in included so that earthing circuit can be obtained for all brass components.
This is a unique design made by hand to order in our workshop. Precision brass components combined with exacting assembly make this a robust light fitting suited to commercial applications. This light should be hung around 32 inches above the table surface for best lighting for pool, snooker or billiards. Shaded metal shades will be a better choice for this application since player eye glare will be reduced. For larger tables two lights can be used either end to end or side by side across the table. Where used over an island bench or long dining table we provide a full choice of lamp shades for decorative flexibility.
Bulbs are not included and can be ordered separately depending on the lumen output and bulb shape required as vintage filament or LED filament.
Features:
Vintage Edison design.
Choice of overall pendant drop.
Solid brass construction.
3 Solid brass sockets.
Matching 4.5″ cast ceiling canopy.
Steel and glass shade styles.
Finish options:
Light fitting including or excluding shade fitters.
Shades available in various materials and finishes.
Globes :
A range of E26 globes will fit this light fitting.
Globes are not included.
Recommended globes are listed below.