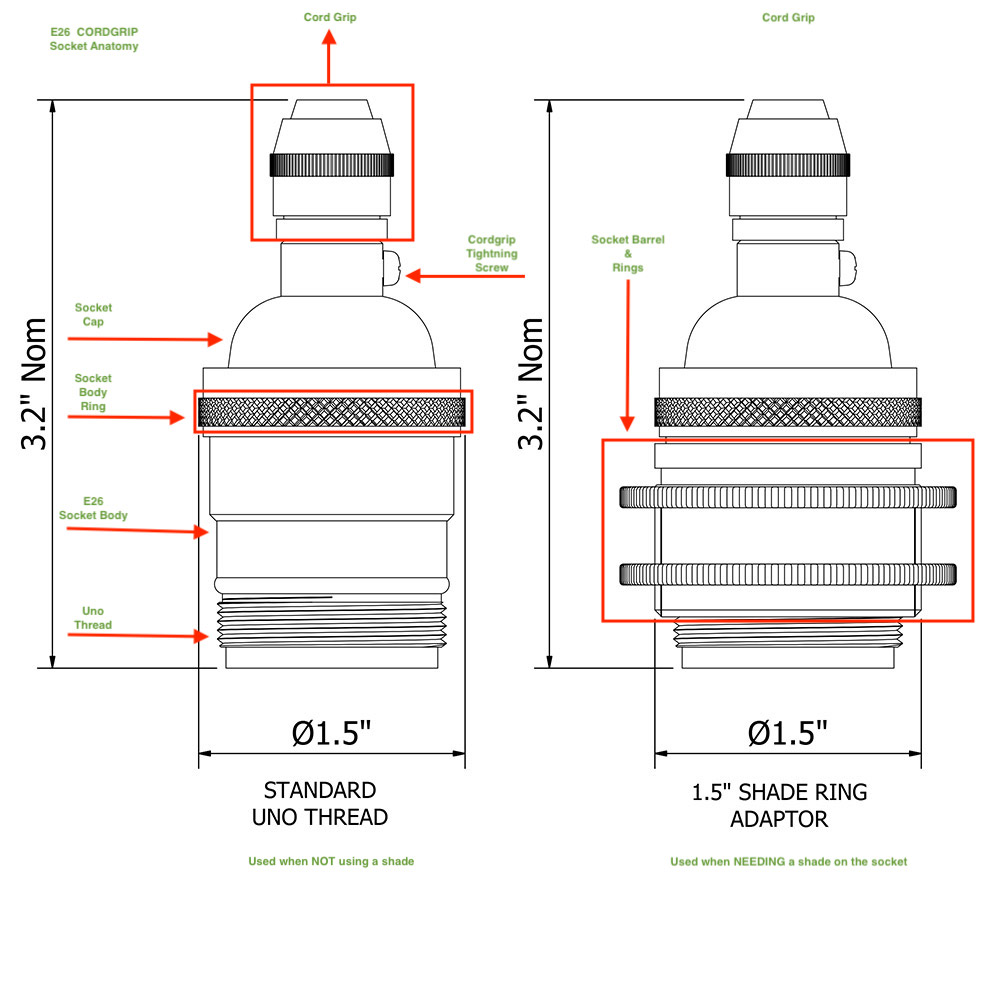 In North America there are 3 sizes of light bulb sockets that are commonly used.
The E-26 bulbs and sockets are the most popular and commonly used.
Our specialized brand of E-26 sockets we sell are UL Listed, and suitable for both the USA and Canada, and fit Title 24 of California code.
The E-26 socket is a standard 10mm unswitched Uno thread lamp body with special turned brass compression nut component.
When talking about E-26 sockets, there are multiple parts to the socket itself, and multiple combinations on how it can be configured, switched or unswitched.
You can choose to have just a plain standard E-26 socket that can be used in a variety of projects including,
plumbing pipe lighting, Batten holder, ect.
You can choose an E-26 socket with a Cord Grip for pendant hanging of your own design. (Pendant Anatomy)
You can choose an E-26 socket with a Hook Top for when you want to add chain and do a swag design with our
All of these E-26 sockets are great for Bare Bulb Pendant design, and projects, however if you want to add a
Metal or Glass shade to it, you are going to have to add a E-26 Shade Ring Barrel Adapter,
and two (2) E-26 Shade Rings to hang a gallery or non gallery shade.
Gallery / Fitter Shades
What is the difference between a Gallery (AKA, Fitter) and non Gallery shade?
A Gallery shade, or as it's sometimes known as, a " Fitter" shade is a metal or glass shade that requires a Gallery or Fitter.
The fitter is attached to the E-26 socket by the socket barrel and 2 shade rings.
Sizes range of the fitters are from 2.25 to 4.25 in.
Once the fitter is over the shade top, tighten the 3 screws in the fitter to the shade for a secure fit, and ready to hang.
Non Gallery Shades
Non Gallery type shade are exactly that…., No Gallery/ Fitter on the shade.
It uses the E-26 socket barrel and 2 shade rings to attach the shade.
If you are trying to build your own (DIY) pendant, and have questions, reach out to us here at Edison Light Globes,